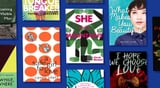 Nov. 20 marks Transgender Day of Remembrance, an annual observance that honors the memory of trans folks whose lives were lost in acts of anti-trans violence. The last few years have seen an increase in anti-trans violence, a devastating and terrifying reality. There are many ways everyone can support the queer community all year long, but Trans Day of Remembrance is also a good opportunity to read or revisit works by trans and nonbinary authors.
From beautifully illustrated collections of poetry to compelling fiction novels to poignant memoirs, this list has something any reader at any level can enjoy. We've included names of staple pioneering trans authors, as well as some fresh faces we hope to introduce you to.
Whether you are a part of the LGBTQ+ community, a loyal ally, or someone looking to live through the lenses of these well-written authors, this list is something you can (and should) return to beyond Trans Day of Remembrance.
– Additional reporting by Lena Felton