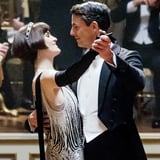 The Crawley family is heading back to the big screen with Downton Abbey 2. On Monday, Focus Features announced the sequel to the 2019 film, which will reunite the entire original principal cast. Production for the upcoming movie began last week and is slated to premiere over the holidays on Dec. 22, 2021. As if that wasn't exciting enough, there are a handful of new faces joining the cast, including Hugh Dancy, Laura Haddock, Nathalie Baye, and Dominic West.
"After a very challenging year with so many of us separated from family and friends, it is a huge comfort to think that better times are ahead and that next Christmas we will be re-united with the much beloved characters of Downton Abbey," Gareth Neame, the film's producer and executive chairman of Carnival Films, said in a press release. Focus Features chairman Peter Kujawski added, "There's no place like home for the holidays, and we can't imagine a better gift than getting to reunite with Julian, Gareth, and the entire Downton family in 2021 to bring the Crawley's back home for their fans."
The 2019 film served as followup to the 2015 series finale, picking up approximately a year and a half after the events of the final episode. While the film followed a royal visit to the Crawley family from the King and Queen of England and ended with a ball, it's unclear exactly where this second film will pick up. That being said, we're counting down the days until December!