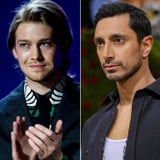 Riz Ahmed is going to be Hamlet. The "Nightcrawler" star will portray the prince of Denmark in a forthcoming adaption of "Hamlet" that will also star Morfydd Clark as Ophelia and "Conversations With Friends" star (and Taylor Swift's beau) Joe Alwyn as Laertes, Ophelia's brother.
A release date has not been set yet, but Aneil Karia has been confirmed as the director, and the script will be written by Michael Lesslie, who also wrote 2015's "Macbeth" and met Ahmed in university. Lesslie and Ahmed have been conceptualizing the project for at least 10 years, Ahmed told Deadline. It will follow the same plot as Shakespeare's classic tragedy, with Ahmed's Hamlet haunted by the ghost of his dead father, only it will be based in present-day London.
"This is a film about many of the pressing issues of our time," Ahmed said to Deadline. "It deals with race, greed, capitalism, corruption and privilege, and yet it also boils down to being a great thriller. It has elements of psychological horror and action. The script is fast-paced and kinetic, jumping from one visually rich setting to another."
The film will take audiences from "the many different sides to London from the elite night life and super cars to ornate Hindu temples and battered down funeral homes, from council estates to plush high rises. London is a city of juxtapositions and haves and have-nots," Ahmed added, noting that the film will position Hamlet as a member of a wealthy British Indian family.
It will also focus on mental health, a topic Karia addressed in his Sundance 2020 debut, "Surge." "What we became excited about was a very singular, first person, visceral film about human fragility and sanity," he told Deadline. "This will be a pared back version of the verse. We want to be true to the verse but to create a world, a tone and delivery that allows people to step into it. We want to break down walls for generations that have felt any barrier to entry when it comes to Shakespeare."