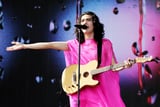 Conan Gray wants you to stop sulking over your sh*tty ex. At 23, Gray has made a name for himself as an indie-pop icon, due in part to his luscious waves but mostly to his sentimental lyrics, which read like a stream of consciousness. His songs – a cross between bedroom pop and indie rock – range from dreamy to straight-up cynical and beautifully illustrate the complex emotions that stir up inside us after breakups, hookups, and everything in between.
"All of my friends and my fans know that I'm a cynical person," Gray told Apple Music ahead of the release of his debut album, "Kid Krow," in March 2020. "I had a dark enough past as a kid, and so in my teen years and adult years, I just kind of laugh at the things that go wrong in my life."
After starting his music career on YouTube in 2015, Gray self-released his debut single, "Idle Town," in March 2017. In February 2019, he went on to make his TV debut on "Late Night With Seth Meyers." He's since taken home the 2019 Shorty Award for best YouTube musician, and he was nominated for a People's Choice Award for best new artist in 2020. His most popular songs to date include "Heather," a reflective song about envy, and "Maniac," lyrical hate mail to an ex who refused to leave him alone.
Equipped with a discography full of cathartic songs that touch on romantic confusion, loneliness, and raw anger, it's no surprise that Gray is friends with other singer-songwriters like The Kid LAROI and Olivia Rodrigo, whose "Good 4 U" has become a pop-punk heartbreak anthem. Whether Gray has any plans to collaborate with his friends or other artists on his upcoming album, "Superache," remains a mystery.
Ahead of the release of Gray's sophomore album on June 24, check out his best songs here.