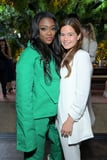 Netflix's highly anticipated queer vampire series is arriving on June 10. Based on a short story by bestselling author V. E. Schwab, "First Kill" stars Imani Lewis as Calliope Burns, a new girl in town who happens to be a vampire hunter, and Sarah Catherine Hook as Juliette Fairmont, a teenage vampire who falls in love with said vampire hunter and needs to make her first kill in order to join her powerful vamp family. Sounds complicated, right? The series also stars Gracie Dzienny, Phillip Mullings Jr., Dominic Goodman, Elizabeth Mitchell, and Aubin Wise.
Goodman, who plays Calliope's brother, recently spoke to Popternative about what viewers can expect from the teen drama series. "First off, I will say this is a family of monster hunters; while I will say this show has a heavy presence of vampires, we are a family of monster hunters," he teased. "I think it's going to be pretty exciting to see a full Black family in this world of sci-fi, and obviously, you have some great actors like Elizabeth Mitchell playing a vampire . . . there's some cool action."
Despite the families' deadly rivalry on the show, the cast seem to have a tight bond off screen, as evidenced by their photos on social media. As we count down the days until "First Kill" hits Netflix, see photos of the cast hanging out ahead.