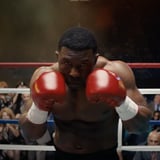 Trevante Rhodes is transforming into boxer Mike Tyson in Hulu's forthcoming drama. On June 8, the streaming giant released the first teaser for "Mike" – an eight-episode limited series that centers on the polarizing former heavyweight champ – showing flashes of Tyson's early childhood days, boxing career, and tumultuous relationship with ex-wife Robin Givens (portrayed by Laura Harrier).
The "Moonlight" star was cast as the leading man in the Hulu series in May 2021, shortly after Jamie Foxx was announced to star in another Mike Tyson limited series, with Antoine Fuqua and Martin Scorsese executive producing, Variety reported.
Just three months before Rhodes's casting news broke, Tyson slammed the Hulu project, originally titled "Iron Mike." "Hulu's announcement to do an unauthorized mini-series of the Tyson story without compensation, although unfortunate, isn't surprising," he wrote in a since-deleted Instagram post. "This announcement on the heels of social disparities in our country is a prime example of how Hulu's corporate greed led to this tone-deaf cultural misappropriation of the Tyson life story." The boxer added that the "real Mike Tyson authorized story" was on the way (speculated to be the Foxx-led project), though there have been no recent updates.
Despite Tyson's protests, the "Mike" team proceeded with the show with plans to "dig deeper" into the story behind the boxer's life and public controversies. "The show is not meant to glorify his life," showrunner Karin Gist told Entertainment Weekly. "We were never trying to say that Mike Tyson is a hero or Mike Tyson is a villain. Our goal was to take a very complicated and controversial figure and try to get under the hood of what he was praised and vilified for while staying true to our North Star of 'no one person is one thing.'"
Along with Rhodes and Harrier, the cast of "Mike" include Russell Hornsby, Harvey Keitel, and Li Eubanks. The new series premieres Aug. 25. Watch the trailer above.