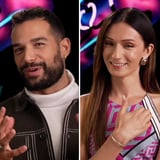 "Queer as Folk" creator Steven Dunn has made bold decisions to reimagine the show for a new generation. The series stars Johnny Sibilly, Fin Argus, Jesse James Keitel, CG, Devin Way, and Ryan O'Connell – queer actors who are playing queer people.
Peacock is making a name for itself as the streaming service reimagining classic shows, and we're on board. Other Peacock revamps of iconic television shows include "Saved by the Bell" and "Bel-Air." Like its back-on-screen counterparts, "Queer As Folk" doesn't disappoint in terms of its commitment to representation. "If you didn't feel represented in '99, chances are you'll be represented in our version," O'Connell says.
We sat down with the cast to talk about the biggest difference between this version of "Queer as Folk" and previous iterations of the show, and they opened up about their own lives, sneaking out of sliding doors, what went on in their DMs, and the real reason O'Connell unfollowed Sibilly on Instagram.
Watch the cast talk about what representation would mean to their younger selves and why they love each other so much.