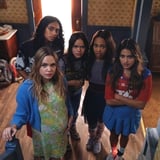 HBO Max is getting ready to try its hand at yet another spinoff of the popular Freeform teenage drama series "Pretty Little Liars," and the first look alone has sent chills down our spines. Could this be the first "PLL" spinoff that goes the distance?
Titled "Pretty Little Liars: Original Sin," the forthcoming reboot will follow a fresh bunch of Liars who scramble their way out of a series of troubles that befall them when an unknown Assailant – notoriously dubbed A – threatens to unearth their well-buried secrets. The original mystery drama, which adapts Sara Shepard's YA book series of the same name, ran on Freeform from 2010 to 2017. It spawned two failed spinoffs – 2013's "Ravenswood" and its 2019 follow-up, "Pretty Little Liars: The Perfectionists" – both of which were canceled after one season. Since the previous two shows in the Pretty Little Liars universe have direct ties with the parent series, it's natural fans are wondering how the upcoming modern iteration fits into the original series, if at all.
Is "
Pretty Little Liars

: Original Sin" Set in Rosewood?

The first major difference between "Original Sin" and the original "Pretty Little Liars" series is the new show, penned by Roberto Aguirre-Sacasa ("Riverdale") and Lindsay Calhoon Bring ("Chilling Adventures of Sabrina"), takes the viewers to a new Pennsylvania town called Millwood instead of the famed Rosewood. However, like Rosewood, Millwood is plagued by "murder, mysteries, and scandal."
Will "Pretty Little Liars: Original Sin" Be Scarier Than "Pretty Little Liars"?
In short, yes. The creators are promising a darker, horror version of the original premise, but they said the show will retain the essence of the original Freeform series.
"We're such huge fans of what I. Marlene King and her iconic cast created, we knew that we had to treat the original series as #canon and do something different," Aguirre-Sacasa and Calhoon Bring told Deadline. "So we're leaning into the suspense and horror in this reboot, which hopefully will honor what the fans loved about the hit series while weaving in new, unexpected elements."
So, Is "Pretty Little Liars: Original Sin" Connected to "Pretty Little Liars"?
It looks like the writers plan on concocting a brand-new, horror-infused plot inspired by the original "Pretty Little Liars" story without getting too hung up on connecting the two worlds. The revival may have built upon the original's core premise, but, going by the writers' hints, the similarities may end there. In other words, "Original Sin" might not have a direct link to the hit 2007 series's plot.
However, that's not to say that the upcoming spinoff can't sprinkle in some unexpected associations once the drama hits HBO Max on July 28. We can already sense a barrage of subtle callbacks paying homage to the original teen melodrama heading our way once "Original Sin" premieres.