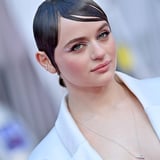 Joey King is opening up about her starring role in Netflix's "The Kissing Booth" trilogy. The movies have become some of Netflix's most watched features, but they weren't met with the best reviews. However, King remains more than happy to have been a part of them.
"I couldn't be prouder of those movies," King told The Independent in an Aug. 2 interview. "I loved them so much and playing that character made me happy. I'll never regret those movies, and I love them so much no matter what anyone says."
The passage of time hasn't changed her opinion of the movies. "In the past couple of years, I've really stepped into myself in a way where I feel much more comfortable with who I am," she said. "I feel good about who I am as a person. With that comes the ability to stand up for yourself and what you believe in, because you actually believe in yourself at that point."
King's next film is "Bullet Train," in which she appears alongside Brad Pitt, Sandra Bullock, and Bad Bunny. On Aug. 1, she stepped out on the red carpet with her fiancé Steven Piet, sharing some affectionate moments with her husband-to-be. She's also set to star in an onscreen adaption of the YA series "Uglies," which she told Deadline was a "dream realized." She's been a fan of the books since she was 11 years old.