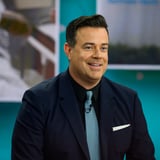 Carson Daly recalls his harrowing experience at Woodstock '99 well. Due to the new Netflix documentary "Trainwreck: Woodstock '99," which details the festival, the infamous event has been on the former talk-show host's mind more than usual.
"I've been getting asked about #woodstock99 a ton recently," he wrote in an Aug. 12 Instagram post. "All I can say is I thought I was going to die. It started off great, TRL live from the side of main stage interviewing all the bands (like Jay from Jamiroquai) & started getting pelted with bottles, rocks, lighters, all of it. It got insane, fast. Nightfall, Limp [Bizkit] plays 'Break Stuff' & the prisoners were officially running the prison."
Eventually, he and his team decided to escape. "My boss @MTV Dave says to our staff/crew backstage, 'We can no longer guarantee your safety, it's time to go!' I remember being in a production van driving recklessly through corn fields to get to safety," he wrote. "It was so crazy & a blur now. I just remember feeling like I was in another country during military conflict. I have so many fun memories from that era, this was not one of them. Needless to say, I haven't taken the fam back to Rome, NY for a vacation."
Daly, then the host of MTV's video countdown show "Total Request Live," also known as "TRL," was covering the festival for the channel before he had to flee. Unlike the 1969 celebration of peace and love it tried to emulate, as the Netflix documentary showcases, Woodstock '99 involved fires, property destruction, polluted and toxic water, and much more. Another HBO documentary, "Woodstock 99: Peace, Love, and Rage," which aired in 2021, also detailed the catastrophe, which saw cops in riot gear descend on festivalgoers as they trashed a vendor's village, among tons of other chaos.