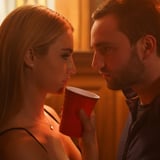 Hulu's adaptation of Carola Lovering's sexy coming-of-age novel "Tell Me Lies" officially premiered on Sept. 7, and we're already hoping for a second season. The 10-episode series traces the tumultuous yet intoxicating relationship between college students Lucy Albright (Grace Van Patten) and Stephen DeMarco (Jackson White) over the course of eight years. At first, their romance is fun and exciting, but things quickly take a dark turn. Will their love survive?
Given that we're only a few episodes in, it's hard to tell what will happen next. But White and Van Patten promise there are some major surprises in store. "There's no predicting any next move," Van Patten tells POPSUGAR. White adds: "Everything is earned in this show. Every twist and turn and thing that happens is so earned by the pace of the show and the way it's written. Everything is perfectly timed."
At the moment, Hulu has yet to renew the show for a second season. Lovering also hasn't written a sequel to the book, but that shouldn't factor into whether the series gets picked up or not, since White says the show is "completely different" from the book. Still, both White and Van Patten would love to continue telling Lucy and Stephen's story. "I would love to do even more work on those people," White says.
"We're just waiting," Van Patten says in regard to a possible second installment. "Season one ends in such a way where there's so much to be filled in, and I would love to see what happens within those eight years, because as of now, it's a mystery."
New episodes of "Tell Me Lies" air Wednesdays on Hulu.