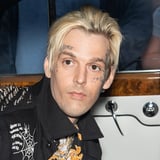 Late '90s pop star and actor Aaron Carter has died, according to multiple reports. The singer was 34. According to the TMZ report, Carter was reportedly found dead in his home in Lancaster, CA. POPSUGAR reached out to Carter's representatives for comment on his death, but did not receive an immediate response.
Carter rose to fame in the late '90s and early '00s when he began touring alongside his older brother, Nick Carter, who is a member of the Backstreet Boys (the brothers have been estranged in recent years). He released his first album, "Aaron Carter," in 1997 at the age of 9 and became a certified pop star in 2000 with the release of his hit song "I Want Candy."
From there, the singer began to branch out into acting, appearing in episodes of hit teen shows like "Lizzie McGuire," "Sabrina the Teenage Witch," and "7th Heaven," as well as lending his voice to animated series like Nickelodeon's "Rocket Power." In 2006, he starred in the E! reality series "House of Carters" with his siblings Nick, B.J., Aaron, Leslie, and Angel Carter. Leslie later died of an overdose in 2012 at the age of 25.
In recent years, Carter has dealt with substance abuse issues and addiction. As reported by The Los Angeles Times in September, the 34-year-old checked himself back into rehab this year in hopes of regaining custody of his 11-month-old son, Prince.
At the time, Carter explained, "I decided to enroll myself into that program. This will be my fifth time in rehabilitation, mainly to take care of aftercare. There's been no relapses. I haven't had any relapses . . . it's just triggers are big right now for me. You know, so, I just, I want my son back."
On Sunday, Nov. 6, Carter's brother, Nick, shared a post on Instagram paying tribute to his little brother. "My heart is broken," Nick's post began. "Even though my brother and I have had a complicated relationship, my love for him has never ever faded. I have always held on to the hope that he would somehow, someday want to walk a healthy path and eventually find the help that he so desperately needed."
He continued, "Sometimes we want to blame someone or something for a loss, but the truth is that addiction and mental illness is the real villain here. I will miss my brother more than anyone will ever know. I love you Chizz. Now you can finally have the peace you could never find here on earth. . . . I love you baby brother."
In addition to Nick, Carter's twin sister, Angel, penned a tribute to her brother as well. "To my twin . . . I loved you beyond measure," she wrote on Instagram. "You will be missed dearly. My funny, sweet Aaron, I have so many memories of you and I, and I promise to cherish them. I know you're at peace now. I will carry you with me until the day I die and get to see you again. 💔"
If you are feeling anxious or depressed and need help finding help or resources, call the Anxiety and Depression Association of America (1-240-485-1001) or the National Alliance on Mental Illness (1-800-950-6264). You can also text "NAMI" to 741741 or email info@nami.org.