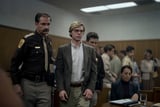 True-crime fans, brace yourselves. "Monster: The Jeffrey Dahmer Story," the wildly popular (and highly controversial) Netflix limited series following Evan Peters's Jeffrey Dahmer, is getting two more seasons.
Despite widespread controversy and concerns about the show romanticizing serial killers and failing the families of Dahmer's real-life victims, "Monster" drew in viewers, and they couldn't look away. Four weeks after its release, "Monster" became the second-most-watched English-language series in Netflix's history, beaten only by "Stranger Things" season four.
Netflix's Head of Global TV Bela Bajaria praised cocreators Ryan Murphy and Ian Brennan, calling them and "Watcher" cocreator Eric Newman "masterful storytellers who captivated audiences all over the world" in a statement (via Variety).
The first season of "Monster" tells a complete story with a very definitive finale, and no official date for season two has been announced. Murphy told The Hollywood Reporter he spent more than three years researching and creating the 10 episodes about Dahmer. Given the show's popularity, Netflix may not want to wait quite that long to air season two. Either way, fans will have a while to wait.
If you're curious where the series will go next, we have answers.