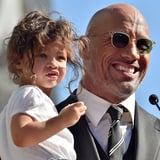 Dwayne Johnson is wishing his daughter Jasmine Johnson all the best on her 7th birthday. "Happiest Birthday 🥳 🎂 to my little fearless, tornado of charisma and charm, Jazzy Lia," the father of three captioned photos of himself and Jazz on Instagram on Dec. 16. "And the best fishing buddy any daddy could ever ask for 🎣. Slow and steady wins the race, ten toes down and I always got your back. I love you more than words exist for me and I'm flying home so I can tuck you in tonight! Happy birthday baby."
"I love you more than words exist for me and I'm flying home so I can tuck you in tonight! Happy birthday baby."
Per his "fishing buddy" comment, Johnson's photo carousel included pictures of himself and Jazz by the lake. In one photo, the father–daughter duo are smiling while the actor holds a fishing pole in one hand and hugs Jazz close with his other. In another photo, the 7-year-old stands on a dock, showing off their catch of the day. The rest of the carousel features equally adorable photos of the "Black Adam" star holding Jazz as a baby and playing with her inside a plane. Celebrating his daughter's artistic talents, the proud dad ended the gallery with a photo of their feet side by side with fresh pedicures courtesy of Jazz.
Just like last year, Johnson kept his promise to fly home in time to tuck his daughter into bed on her birthday. The "Jungle Cruise" star shared a second Instagram post for Jazz on Saturday revealing he made a special trip home just for her. "Flew home and landed just in time to keep my promise to tuck this little one in on her birthday 🎂 💤 ❤️," he captioned a photo of the 7-year-old in her pajamas staring out into their backyard.
While her dad's arrival was no doubt exciting, it seems he's currently sharing Jazz's attention with their wayward Elf on the Shelf. "Caught her looking out the door as she's trying to see where 'Elfie'🧝🏽‍♀️ flew off to (Elf on the Shelf)," Johnson continued. "Man I LOVE seeing the world thru our children's eyes ✨✨✨ I asked her 'what do you see?' She said 'poop' I said, 'Elf poop?' She said, 'dog poop'😂🧝🏽‍♀️ 🐕 💩."
The actor also flew home after work to help his daughter celebrate her sixth go around the sun. "Happy Birthday Jazzy!!!" he wrote on Instagram last year. Johnson went on to compliment her sense of humor and called Jazz "strong, sweet, independent, happy, creative, confident and most importantly ~ loving and kind." "I'm proud of you, I got your back and as your father, I'll always be here to help guide thru life with my heart and hands," he said.
Between celebrating his eldest daughter Simone Johnson's badass WWE TV debut, bringing Black Adam to life on screen, and singing the occasional country duet, it's nice to see that Johnson always has time to go fishing or read a bedtime story to his little girl.
See the proud dad's sweet birthday tribute to Jazz above.