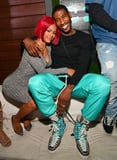 She's a badass dancer, singer, model, actor, and director, and he's a former NBA player with a rap career and "Dancing with the Stars" championship under his belt. Together, they are the power couple that is Teyana Taylor and Iman Shumpert.
The beloved couple first went public with their relationship back in 2014 and put it on view again when they costarred in Kanye West's steamy fitness music video "Fade" in 2016. Since then, the pair have been stealing our hearts with their many PDA-filled moments on social media and IRL.
For those who aren't familiar with their "girl meets boy" love story, Taylor and Shumpert started out as good friends before things heated up romantically. After Taylor went through an unexpected public breakup with ex Brandon Jennings, she and Shumpert sparked a connection when the singer helped him recover from a knee injury he sustained in 2013. From there, it was written in the star for their love. "The funny part was [that we were] two people who weren't looking for anything but wound up together," Taylor told VladTV in a 2014 interview.
Taylor and Shumpert's chemistry is undeniable – just take a look at their loving tributes to each other on Instagram. In 2018, they put their relationship and family life with their daughter Junie on full display in their VH1 series "Teyana & Iman." Two years later, they welcomed their second daughter, named Rue Rose, and graced our TV screens yet again with their newest family addition on E!'s 2021 reality show, "We Got Love Teyana & Iman."
Maybe it's the matching leather jackets from their low-key wedding or the fact that Iman delivered both of his daughters at home, but we can't get enough of this smoking-hot couple. Read on to see some of their sweetest "petunia" moments, as Taylor would say.