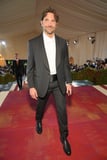 Bradley Cooper has been admired by fans since he first popped up on TV during an episode of "Sex and the City" in 1999, and he's continued to steal hearts over the years as both a great actor and a person who uses his platform to give back to those in need. His most important role to date, however, came in March 2017 when he and ex Irina Shayk welcomed their daughter, Lea De Seine.
At the time of her birth, Cooper and Shayk had been romantically linked for two years. In June 2019, the pair split after four years of dating, but Cooper and Shayk remain dedicated to parenting Lea together. "Their coparenting routine and schedule is going smoothly and they have respect for each other," a source told Entertainment Tonight in January 2021. "Bradley's first priority is Lea and Irina is a hands-on mom too." The source added that Cooper and Shayk "both want what's best for Lea, so it's easy for them to be a team in that regard."
Echoing those statements, Shayk told Elle in March 2021: "I never understood the term coparenting. When I'm with my daughter, I'm 100 percent a mother, and when she's with her dad, he's 100 percent her dad. Coparenting is parenting."
Cooper and Shayk seem to be on good terms since their split. Shayk shared a sweet photo with Cooper from a tropical vacation in August 2022, and the duo were spotted smiling together inside the 2023 Met Gala.
While Cooper and Shayk remain primarily low-key when it comes to sharing information about their daughter, the actor has gushed over Lea on a few occasions. To find out what he's said, scroll through this gallery.