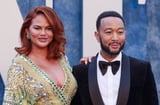 John Legend and Chrissy Teigen are squeezing in one more family vacation before summer comes to an end. On Aug. 5, John Legend shared a video of himself and baby Esti in full vacation mode on Instagram. In the video, his and Teigen's almost 7-month-old daughter sits on her dad's shoulders as Legend dances to Snoop Dogg's "Drop It Like It's Hot."
The dad of four holds on to Esti's hands to support his daughter as he bops around in tropical swim shorts and white t-shirt. Meanwhile, Esti grins for the camera. Legend captioned his post, "We on vacation."
While it's unclear where Legend and Teigen are vacationing just yet, the family appear to be somewhere near a beach, as evidenced by the beach hut behind the "All of Me" singer. On Aug. 3, Legend shared his first snap from the family's trip, which also featured a shot of him carrying Esti on his shoulders against a backdrop of tropical trees. "Angel on my shoulders," he wrote.
This summer has been a special for Legend and Teigen. In addition to being their first summer with Esti, they also welcomed their youngest son, Wren, via surrogate in June. Wren and Esti joined their big sister Luna and big brother Miles – both of whom got to spend the night in Barbie's Malibu Dreamhouse with their parents in July.
Even though she hasn't celebrated her first birthday yet, this isn't Esti's first vacation. The little one previously joined her family on an Italian vacation in April ahead of her little brother's arrival. At the time, Teigen marveled at how much her life has changed since she and Legend vacationed in Italy during the early days of their relationship. "We were just a couple of crazy child-free kids!" Teigen wrote on Instagram. "We took the water bus everywhere and ran through the alleys, making out like a couple of doofuses in lurve who never would have thought we'd be back with babies of our own! well john probably knew."
Check out the gallery ahead to see all of the photos from Legend and Teigen's summer vacation so far.