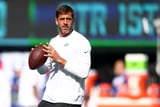 Aaron Rodgers is starting a new chapter of his life. This September, the quarterback is making his debut as a member of the New York Jets, his first time playing for a team that's not the Green Bay Packers. He made his NFL debut back in 2005 with the Wisconsin-based team, and he led them to Super Bowl victory in 2011. The start of Rodgers's journey with Gang Green was also documented in this summer's season of "Hard Knocks" on HBO, which went behind the scenes at Jets training camp as Rodgers and his new team prepared for this monumental season.
But just as splashy as Rodgers's professional endeavors is his personal life. The 39-year-old has been in a series of high-profile relationships. Back in 2022, he split from fiancée Shailene Woodley after two years together. He also dated Olivia Munn, "Gossip Girl" alum Jessica Szohr, and race-car driver Danica Patrick. Most recently, he was linked to Mallory Edens, daughter of one of the owners of the NBA's Milwaukee Bucks.
Rodgers reflected on the difficulty of dating in the public eye in a 2017 interview with ESPN. "When you are living out a relationship in the public eye, it's definitely . . . it's difficult," he said. "It has some extra constraints, because you have other opinions about your relationship, how it affects your work and, you know, just some inappropriate connections." The interviewer asked if he meant when fans and pundits have asked if his girlfriends are hurting his performance. He nodded and said, "They're such misogynists, right?"
Ahead, here's everyone we know Rodgers has dated through the years.