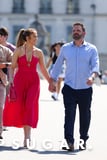 A week after tying the knot in Las Vegas, Jennifer Lopez and Ben Affleck are celebrating their new life together with a Parisian getaway. The couple touched down in the City of Love on the evening of July 21 along with their kids Emme, 14; Seraphina, 13; and Violet, 16. Shortly after their arrival, the blended family was spotted dining at famed restaurant Matignon. Lopez and Affleck appeared to be in newlywed bliss, showing plenty of PDA.
Their Parisian vacation continued over the weekend, with the couple visiting the Louvre Museum and taking in some shopping in celebration of Lopez's July 24 birthday. In addition to visiting the Louvre, Lopez and Affleck took a private tour of the river Seine on Petrus III, a "gentleman's yacht" built in the 1950s, as reported by People. They followed up the tour with a romantic dinner and a visit to an ice cream shop to celebrate Lopez turning 53. At the end of the night, a balloon bouquet was reportedly delivered to the couple's hotel room.
On July 22, the group was photographed strolling the streets of Paris, hitting popular spots like the Marais district, the Centre Pompidou, and Musée d'Orsay. According to a source, the couple spent over two hours cuddling and kissing on a park bench. "They were like two teens on a park bench – very loving, very attentive," the source told People. While Bennifer seems to be enjoying their vacation, they reportedly have yet to plan an official honeymoon, though a bigger wedding party is in the works.
Lopez and Affleck wed on July 17 at Vegas's Little White Wedding Chapel after obtaining a marriage license in Clark County, NV, the day prior. The "Marry Me" actor confirmed the news and shared details in her "On the JLo" newsletter afterwards, describing the intimate ceremony as "exactly what we wanted." She wrote, "When love is real, the only thing that matters in marriage is one another and the promise we make to love, care, understand, be patient, loving and good to one another. We had that. And so much more. Best night of our lives."
See photos from the family's post-wedding vacation ahead.
– Additional reporting by Sabienna Bowman.