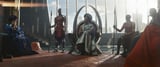 Marvel Studios returned to Comic-Con for the first time since 2019, and it had some major announcements in store for the future of the MCU. Marvel Studios head Kevin Feige was on hand on July 23 to share some exciting new movies and TV shows as the studio heads out of Phase Four into Phase Five (and Phase Six!).
Marvel already had a full schedule announced through the end of 2022 and the beginning of 2023. The "Black Panther" sequel, "Wakanda Forever," is set to hit theaters this November. Then there's "Ant-Man and the Wasp: Quantumania," which is slated for February 2023. On the Disney+ side, there's the Aug. 17 premiere of She-Hulk: Attorney at Law," and in December, there's "The Guardians of the Galaxy Holiday Special," directed by James Gunn. But that's just the beginning of what Marvel has in store for fans in the next three years.
In addition to announcing that Phase Four will come to an end with "Black Panther: Wakanda Forever," Feige also laid out the studio's plans for Phases Five and Six. Among the movies Marvel fans can expect to see in the near future are two new Avengers films that will wrap up The Multiverse Saga, which encompasses Phases Four-Six. Meanwhile, Disney+'s lineup of Marvel shows will continue to expand with "Secret Invasion" starring Samuel L. Jackson, "Agatha: Coven of Chaos," and a new 18-episode Daredevil series starring Charlie Cox.
If your favorite Marvel movie or show didn't get any news out of Comic-Con, don't fret. There's also Disney's D23 Expo in September, and the studio is reportedly planning to give some more major updates and announcements then. For now, read on for all of the new details about Marvel's upcoming slate of movies and shows.
– Additional reporting by Sabienna Bowman