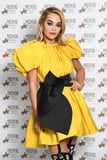 Rita Ora and Taika Waititi have reportedly tied the knot! A source confirmed the news to E! News on Aug. 9 after the couple were both seen out and about wearing gold bands.
First linked in April 2021 after Ora posted a photo with Waititi on her Instagram, the couple later made things official at a Fourth of July party in 2021 and went on to appear at a number of events together, including a screening of Waititi's latest directorial feature, "Thor: Love and Thunder."
Waititi has been married previously, and shares two children with ex-wife Chelsea Winstanley. Ora hasn't been married before, but her relationship with Waititi isn't the first time that she has had a public relationship with someone who, like her, works in the entertainment industry. Her exes include A-list actors, reality stars, and other creatives in the music and movie business.
Trying to remember who she's dated previously? We've got it covered. Keep reading for a brief rundown of Ora's romantic history along with what she's said on the rare occasions she's spoken about her personal life.