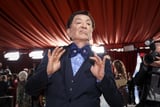 Acting your age is overrated. At 94 years old, James Hong brought the best energy to the red carpet at the 2023 Oscars, striking fabulous poses and pulling funny faces for the cameras. As he made his way through the venue, the legendary actor raised his hands into peace signs, stuck his tongue out at onlookers, and spread joy to everyone who crossed his path. On a night typically characterized by pomp and circumstance, his light-hearted appearance was a welcome reminder not to take anything too seriously.
Although he had evidently taken the night off from multiverse jumping, upon closer inspection, some of Hong's poses featured an unconventional bowtie, which he had embellished with two small googly eyes. Fans of the film might recognize this subtle reference to "Everything Everywhere All At Once," which is nominated in a whopping 11 categories. In the movie, googly eyes come to symbolize the importance of enjoying the present moment. As proven through his red carpet appearance, Hong could not have embraced this message more wholeheartedly.
Later on, Hong reunited with some of his fellow cast members, including Jamie Lee Curtis, who gave him a kiss on the cheek inside the theater. Curtis previously shared her reaction to the movie's many nominations, expressing her genuine surprise. Other costars, like Michelle Yeoh also weighed in on the historic accomplishment, saying, "Every single person who worked on this film poured their heart and soul into it, and we are all so grateful to the Academy for recognizing so many from our 'EEAAO' family." Read on to see how Hong paid tribute to the film in his own, fantastic way.